That I am lazy should come as no surprise. This post will be brief: merely confirmation that I am still breathing. No,
The Nose
was not the last opera performance that I attended. Have I mentioned on this blog that I attended a delightful
Rusalka
in Boston way back last March? I see no evidence of that fact. Perhaps I typed up some notes about
Rigoletto
last April at the
Met
? If I did, I can't find them...
Incidentally, that
Rigoletto
--despite being my first experience of hearing Diana Damrau and Joseph Calleja live--was perhaps most notable in that I discovered for the first time the delight of the balcony box. No more cramped and expensive orchestra seating for these weak knees! I'll take standing room or boxes from now on.
So it was that for the December 8, 2009 performance of
Le nozze di Figaro
, I bought all 6 seats of a balcony box at the Met and brought several friends along, two of whom had never attended (or even listened to, as far as I can tell) an opera before. A good time was had by all. Danielle de Niese was a spunky and gorgeous Susanna. And, although I didn't take notes and my mind is somewhat damaged by alcohol, I am pretty sure that nobody sucked. I do remember that the price of a gin and tonic in the Met lobby was absolutely bloody criminal (good thing we tanked up at an Irish pub beforehand--note to self: must completely empty bladder before taking seat before a
Figaro
which doesn't have an Intermission until after Act II).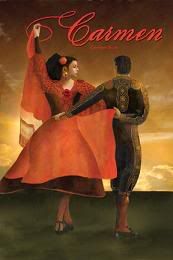 Next up, balcony box seats once more one week from today (February 9 for the non-mathematicians) at the Met for
Carmen
with (hopefully, because she has been buggy lately) Olga Borodina. Also (though tickets have not been purchased yet) I can't imagine missing the upcoming March run of
Ariadne auf Naxos
at the
Boston Lyric Opera
since I absolutely adore that opera. I just need to wrangle up (or harangue, more likely) some friends to accompany (i.e. drive) me (though my knees already hurt just thinking about the balcony seating at the Shubert). We also have
Opera Boston
doing
Madame White Snake
later this month, though it would probably be a task to get someone to go with me for that. Maybe I'll go alone, if only to see male soprano Michael Maniaci as Little Green (I can take the train, I guess).
Latest guilty pleasure: The
OperaNow podcast
(especially Oliver's Corner).
By the way, Diana kicked ass as Gilda!
It's killing me that I will probably be missing
The Nose
at the Met next month as well as
The Turn of the Screw
this week in Boston...
Oh yeah, and I haven't smoked for 9 days!